EMERGENCY LIGHTING UNITS
FOR HLD LED DOWNLIGHTS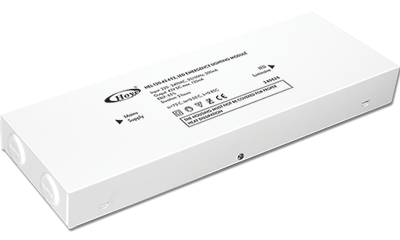 Features
Micro-processor controlled self-contained emergency lighting units
AC and DC constant current drivers in one system
Support all Hoye HLL LED lamps
No relay for changeover
Safe and reliable low DC voltage changeover
Instant changeover, no black-out time
One bi-color LED for multiple status indications
LED short-circuit and open-circuit protections
Long life high temp Ni-Cd battery
Less than 1W standby power
Deep-discharge shutdown for battery protection
Constant current battery charger with open-load and over-current protections
Option of infrared remote control for testing and 5 steps of dimming control
Electrical Characteristics
| | |
| --- | --- |
| Rated supply voltage | 220-240 VAC (-10%, +10%) |
| Supply frequency | 50-60 Hz |
| Changeover time | <0.3 Sec |
| Recharge time | <12 hrs |
| Power factor | >0.85 |
| Battery cut-off voltage | <1.0V/cell |
| Ambient temp (ta) | 0 … +50°C |
| Max. case temp (tc) | 70°C |
| Weight | 1.2 kg |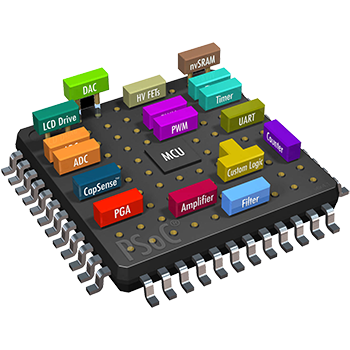 Micro-Controller Controlled Operations
The whole system is software controlled by a single chip micro-controller. These include battery charging, discharge discharging, system changeover, fault protections, LED indications and infrared remote control.
The improves system reliability and makes the system smarter for the whole operations.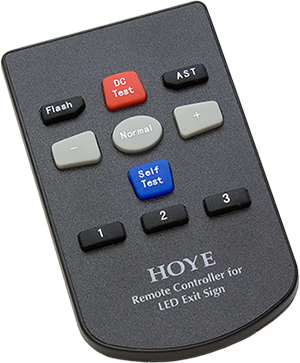 Remote Control (option)
The infrared remote control makes battery change-over testing is easier with just a press on the controller. It also provide 5-steps of dimming control for normal AC operation.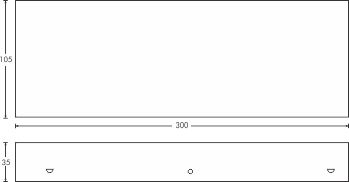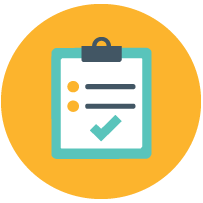 Compliances
EN 61347-2-1 Lamp controlgear. Particular requirements for starting devices (other than glow starters)
EN 61347-2-13 Lamp controlgear. Particular requirements for d.c. or a.c. supplied electronic controlgear for LED modules
EN 61951-1 Secondary cells and batteries containing alkaline or other non-acid electrolytes – Portable sealed rechargeable single cells – Part 1: Nickel-cadmium
BS 5266 part 1 Emergency lighting. Code of practice for the emergency lighting of premises
EN 1838 Lighting applications. Emergency lighting
EN 55015 Limits and methods of measurement of radio disturbance characteristics of electrical lighting and similar equipment
EN 61000-3-2 Electromagnetic compatibility (EMC). Limits. Limits for harmonic current emissions (equipment input current ≤ 16 A per phase)
EN 61000-3-3 Electromagnetic compatibility (EMC). Limits. Limitation of voltage changes, voltage fluctuations and flicker in public low-voltage supply systems, for equipment with rated current ≤ 16 A per phase and not subject to conditional connection
EN 61547 Equipment for general lighting purposes. EMC immunity requirements
FSD Circular Letter No. 1/2006: PPA-104(A) 4th Rev Fire Safety Standards for Emergency Lighting
Product Models
Model
LED Lamp
Lamp
Power (W)
Lamp Type
Battery
EBLF
Discharge
Hours (Hrs)
HEL-120-48-752
HLD-45S36
4.5
80mm Spot Light
H10A10 (9.6V, 1.0Ah)
75
2
HEL-120-48-653
HLD-45S36
4.5
80mm Spot Light
H10A10 (9.6V, 1.0Ah)
65
3
HEL-180-48-502
HLD-65S36
6.5
80mm Spot Light
H10A10 (9.6V, 1.0Ah)
50
2
HEL-180-48-423
HLD-65S36
6.5
80mm Spot Light
H10A10 (9.6V, 1.0Ah)
42
3
HEL-220-48-502
HLD-108HW
8.0
190mm Downlight
H10A10 (12.0V, 1.0Ah)
50
2
HEL-220-48-333
HLD-108HW
8.0
190mm Downlight
H10A10 (12.0V, 1.0Ah)
33
3
HEL-275-48-652
HLD-110HW
10.0
190mm Downlight
H10S20F (12.0V, 2.0Ah)
65
2
HEL-275-48-583
HLD-110HW
10.0
190mm Downlight
H10S20F (12.0V, 2.0Ah)
58
3
HEL-400-48-452
HLD-114HW
14.0
190mm Downlight
H10S20F (12.0V, 2.0Ah)
45
2
HEL-400-48-403
HLD-114HW
14.0
190mm Downlight
H10S20F (12.0V, 2.0Ah)
40
3
HEL-550-48-332
HLD-120HW
20.0
190mm Downlight
H10S20F (12.0V, 2.0Ah)
33
2
HEL-550-48-303
HLD-120HW
20.0
190mm Downlight
H10S20F (12.0V, 2.0Ah)
30
3