HLI T8 LED LAMP (INTEGRATED DRIVER)
PREMIUM SERIES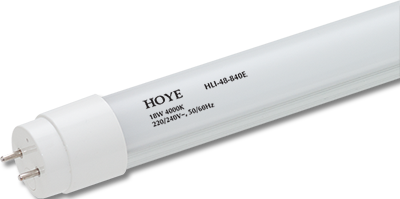 Features
Integrated driver with high PFC
For direct replacement for conventional control gear circuit as per IEC 62776:2014
Rewiring and removal of magnetic ballast are not required
Ultra high efficient and durable control driver IC and Japanese electrolytic capacitors
Nichia LEDs with 50K hours life at L70, with IES LM-80-08 certified
High number of switching cycles
Aluminum PCB for better LED heat dissipation
Using segmenting LED binnings for narrower CCT range
System efficacy up to 120 lm/w
Aluminum heat sink with polycarbonate tube
Extremely break resistant
Complies with RoHS directive
Characteristics
| | |
| --- | --- |
| Rated supply voltage | 220-240 VAC ±10% |
| Supply frequency | 50-60 Hz |
| Start time | < 0.5 Sec |
| Lamp switching cycles | >200,000 |
| Ambient temperature (ta) | -20 … +50°C |
| Driver efficiency | up to 87% |
| Power factor | ≥95% |
| THD | <15% |
| Protection | IP20 |
| CRI | >80 |
| Beam angle | 150° |
| Lumen maintenance (L70) | >50K Hrs |
LED Chips
The series incorporates best of best Nichia LEDs from Japan. The LEDs have the longest LED life and the best performance in the industry.
They are IES lM-80-2008 (Measuring Lumen Maintenance of LED Light Sources) certified for the best reliability and performance.
For eye safety, the LEDs are also IEC 62471:2008 (Photobiological Safety of Lamps and Lamp Systems) certificated.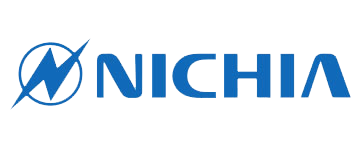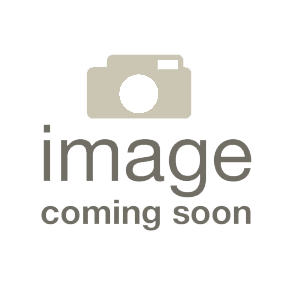 LED Drivers
The LED drivers are integrated inside LED tubes and have all the EMC filters, power factor correction and fault protection features.
The drivers are built by using high efficient control IC and long life high temperature electrolytic capacitors from Japan.
LED Tube Dimensions
Model
Diameter
(mm)
Length L
(mm)
HLI-24-8xx
28
603
HLI-36-8xx
28
908
HLI-48-8xx
28
1213
HLI-60-8xx
28
1513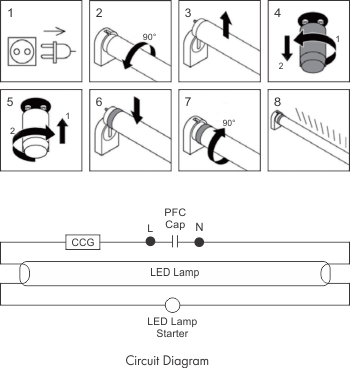 CCG Retrofit Instructions (as per IEC 62776)
Switch off electricity
Rotate the conventional lamp
Remove the conventional lamp
Remove the starter
Click the LED replacement starter into the starter holder
Insert the LED lamp into the lampholder.
Secure the position by turning the lamp by 90°
Switch on electricity and check for lamp starting

Direct Wiring Instructions
Rewiring must be done by qualified electricians only
Switch off and disconnect electricity
Remove the fluorescent lamp
Remove power factor correction capacitor if installed
Rewire the luminaire as shown in the circuit diagam
Use LED replacement starter or a fuse of 250V 2A for protection
Insert HLI T8 LED lamp
Mark the luminaire to indicate replacement LED lamp type
Never insert fluorescent lamp with rewired luminaire
Compliances
EN 62776:2014 Double-capped LED lamps designed to retrofit linear fluorescent lamps – Safety specifications
EN 62471:2008 Photobiological safety of lamps and lamp systems
EN 60155 Glow-starters for fluorescent lamps
EN 55015 Limits and methods of measurement of radio disturbance characteristics of electrical lighting and similar equipment
EN 61000-3-2 Electromagnetic compatibility (EMC). Limits. Limits for harmonic current emissions (equipment input current ≤ 16 A per phase)
EN 61000-3-3 Electromagnetic compatibility (EMC). Limits. Limitation of voltage changes, voltage fluctuations and flicker in public low-voltage supply systems, for equipment with rated current ≤ 16 A per phase and not subject to conditional connection
EN 61547 Equipment for general lighting purposes. EMC immunity requirements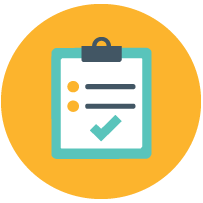 Model
Circuit
Power (W)
PF
(%)
THD
(%)
CCT
(K)
Lumen
(lm)
Efficacy
(lm/W)
Length
(L)
HLI-24-830
9.0
≥92
<15
3000
1000
111
603
HLI-36-830
13.5
≥95
<15
3000
1500
111
908
HLI-48-830
18.0
≥95
<15
3000
2000
111
1213
HLI-60-830
22.5
≥95
<15
3000
2500
111
1513
HLI-24-840
9.0
≥95
<15
4000
1080
120
603
HLI-36-840
13.5
≥95
<15
4000
1620
120
908
HLI-48-840
18.0
≥95
<15
4000
2160
120
1213
HLI-60-840
22.5
≥95
<15
4000
2700
120
1513
HLI-24-865
9.0
≥95
<15
6500
1080
120
603
HLI-36-865
13.5
≥95
<15
6500
1620
120
908
HLI-48-865
18.0
≥95
<15
6500
2160
120
1213
HLI-60-865
22.5
≥95
<15
6500
2700
120
1513