HXS Slim Series – Pictogram LED Exit Sign
IEC-62034 Automatic Test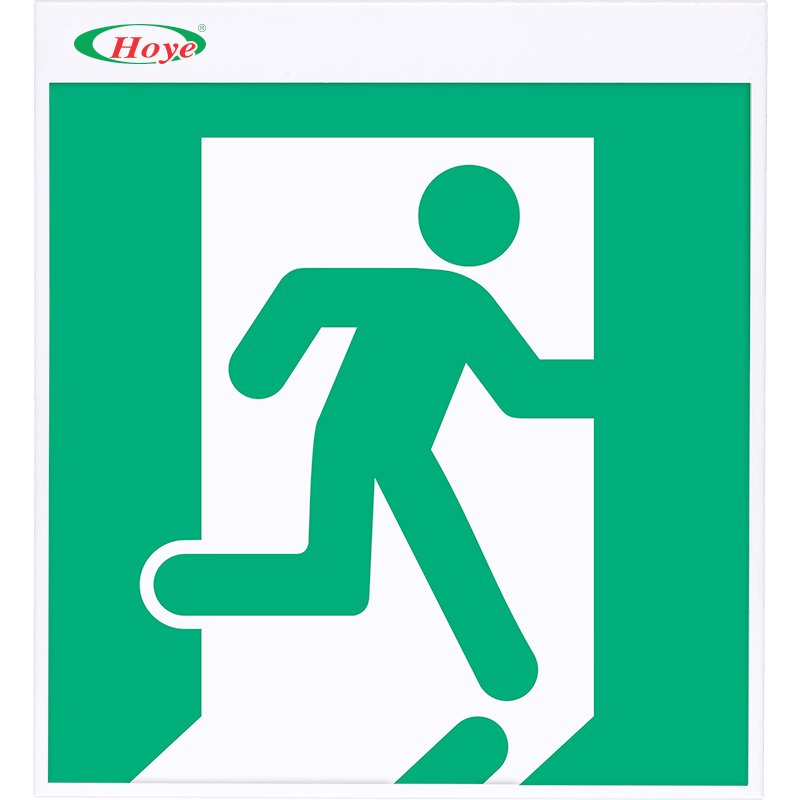 Ultra slim low profile
Thinnest bezel, just 4mm width

Ultra thin, 18mm with gear & rechargeable battery

No gear box is required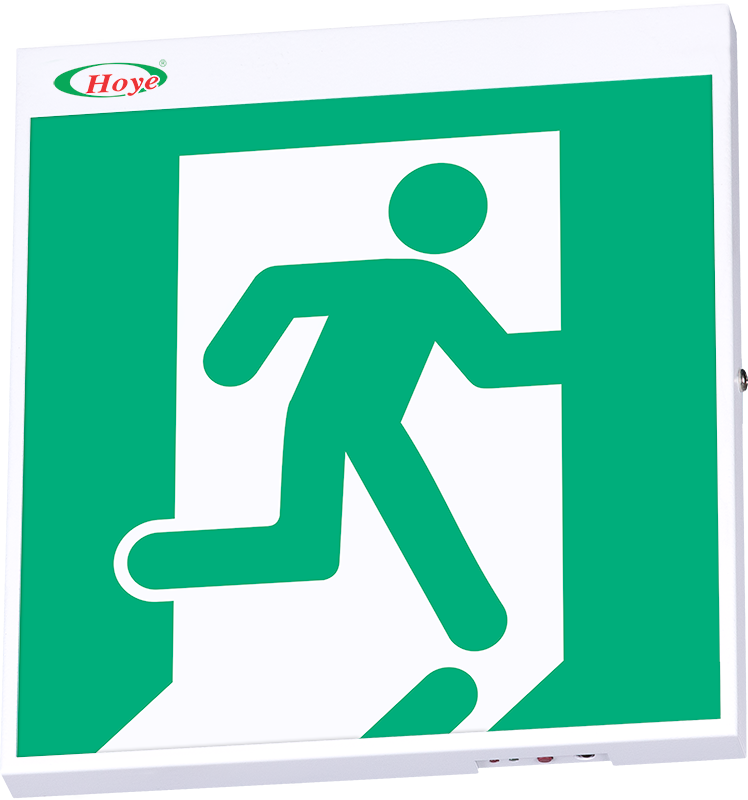 IEC 62034 automatic test system

Infra-red remote control

Dual LED for system status indication
Features
IEC 62034 automatic test system for HK FSD requirements in 2021
Slim design with 4mm bezel and 18mm thickness
Nichia LEDs with 150K hours life at L70
System power is only 2W
Full solid-state design without mechanical part
Constant brightness control for both AC and DC operations
Support lamp flashing with fire alarm input
Deep-discharge shutdown for battery protection
Isolated low voltage test switch
3 charging modes: 6-hour charging, pulse charging, battery recovery charging
Infrared remote control for self-test and system set up
Electrical Characteristics
| | |
| --- | --- |
| Rated supply voltage | 220-240 VAC (-20%, +10%) |
| Supply frequency | 50-60 Hz |
| Circuit power | 2.0W max |
| Changeover time | <0.1 sec |
| Recharge time | <6 hrs |
| Rated discharge time |  3 hrs |
| Lumen Maintenance (L70) | >150K Hrs |
| Ambient temperature (ta) | 0 ... +50°C |
| Max. temperature rise (Δt) | <5°C |
| Battery type | NiCd, NiMH |
| Luminance | 250 cd/㎡ max |
IEC 62034 Automatic Test
According to HK FSD, Technical Guidance May 2021 and FSD Circular Letter No. 5/2021, PPA/104(A), 5th Revision, emergency lighting with self-contained batteries shall be inspected periodically. For automatic testing devices, it shall be designed in accordance with IEC 62034:2012 - Automatic test systems for battery powered emergency escape lighting.
Our test system will start automatically after mains supply is not interrupted for 5 days. After a random delay days for different device,  a commissioning test is started. This avoids adjacent devices testings at the same time. Monthly functional tests and annually duration test will then be repeated.
The firmware supports full IEC 62034 - ATS Type S, including the following tasks: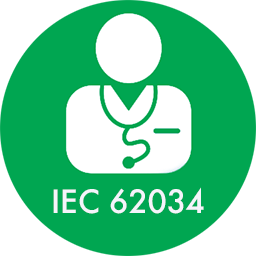 IEC 62034/BS EN 50172/FSD Requirements
Automatic Test
Commissioning Testing
✅
Maintenance
 

a. Once every month a functional test in accordance with BS EN 50172 not longer than 10% of rated duration should be carried out.

✅
60 sec

b. Once every twelve months a full rated duration test, should be carried out and the results should be entered in a register.

✅

c. The luminaire should be functioning properly to maintain the stipulated lighting level and the normal power supply should be restored after the test.

✅

d. If automatic testing devices are used, the above item a – c should be complied with.

✅
Functional and Duration Tests
Functional and duration tests are two types of tests performed to ensure exit sign functionality and reliability.
Functional test is performed once a month to check the basic functionality. The test also checks the hardware parameters, such as various voltage and current. The test duration is 60 seconds.
Duration tests are performed once a year. The tests is the same as functional test but with additional battery life check with a full rated battery discharge.
Commissioning test are the first duration tests. They are typically performed after the device has been installed and configured.
Test Performed
Functional
Test
Duration
Test

1. System Changeover

✅
✅

2. Lamp voltage

✅
✅

3. Lamp current

✅
✅

4. RTC battery voltage

✅
✅

5. Battery charging voltage

✅
✅

6. Battery charging current

✅
✅

7. Battery discharging voltage

✅
✅

8. Battery discharge time

 
✅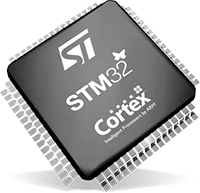 ARM 32-bit Processor
The core of the system is controlled by an ARM 32-bit processor, which is more powerful and faster than previous generations.
System parameters, such as current and voltage from battery, charger and lamp, are sampled several thousand times per second. This provides fast and accurate response for system operations, fault monitoring and automatic test system.
LED Chips
The series incorporates best of best Nichia LEDs from Japan. The LEDs have the longest LED life and the best performance in the industry. They are IES lM-80-2008 (Measuring Lumen Maintenance of LED Light Sources) certified for the best reliability and performance. For eye safety, the LEDs are also IEC 62471:2008 (Photobiological Safety of Lamps and Lamp Systems) certificated.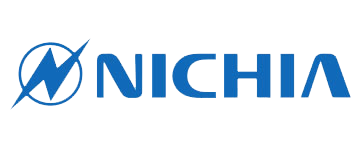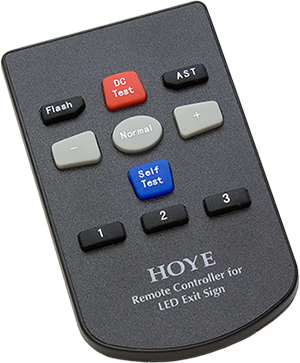 IR Remote Control
The infrared remote control makes maintenance easier than ever. It can be used to set the LED exit sign system settings and self-test functions.
Panel brightness dimming control in normal operation

Flashing model in emergency mode

System changeover test (simulate traditional test button)

On-demand self-test
Status Indications
Two LED indicators provide a rich set of status indications for system status and faults. Operators can use the information to quickly identify and diagnose problems.

Normal Status
Charging

Battery charged

Functional test pending

Duration test pending

Fault Status
Battery fault
Lamp fault
Charger fault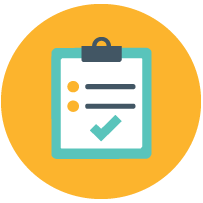 Compliances
FSD Circular Letter No. 5/2021 Fire Safety Requirements for Emergency Lighting Systems in Licensed/Registered Premises
IEC 62034:2012 Automatic test systems for battery powered emergency escape lighting
BS 5266-1:2016 Emergency lighting – Code of practice for the emergency lighting of premises
BS EN 1838:2013 Lighting applications. Emergency lighting
EN 61347-2-13 Lamp controlgear. Particular requirements for d.c. or a.c. supplied electronic controlgear for LED modules
EN 62384 DC or AC supplied electronic control gear for LED modules. Performance requirements
EN 60598-1 Luminaires. General requirements and tests
EN 60598-2-22 Luminaires. Particular requirements. Luminaires for emergency lighting
EN 55015 Limits and methods of measurement of radio disturbance characteristics of electrical lighting and similar equipment
EN 61000-3-2 Electromagnetic compatibility (EMC). Limits. Limits for harmonic current emissions (equipment input current ≤ 16 A per phase)
EN 61000-3-3 Electromagnetic compatibility (EMC). Limits. Limitation of voltage changes, voltage fluctuations and flicker in public low-voltage supply systems, for equipment with rated current ≤ 16 A per phase and not subject to conditional connection
EN 61547 Equipment for general lighting purposes. EMC immunity requirements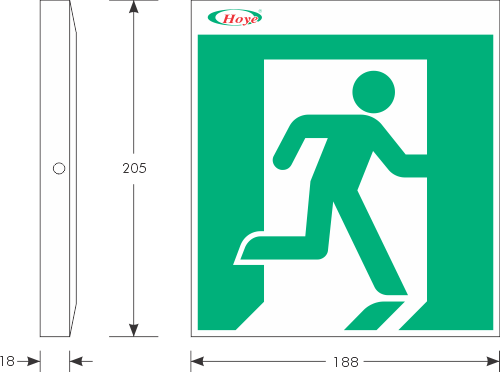 Ordering Information
| Model | Width (mm) | Legend | Illuminated Side |
| --- | --- | --- | --- |
| HXS-W2SA | 188 | A | Single |
| HXS-W2SB | 188 | B | Single |
| HXS-W2SC | 188 | C | Single |